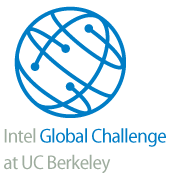 2010 Finalist Teams
2010 Intel + Berkeley Technology Entrepreneurship Challenge Participating Teams
ADTELLIGENCE – University of Mannheim, Germany
ADTELLIGENCE provides the leading advertising targeting platform for the social web. Social networks, Web 2.0 sites, and social web providers can monetize their platforms more effectively by using their members' real interests, demographics, and geographic information —matching them with the most relevant ads—all within a fully automated closed-loop marketing process for advertisers. We unify self-service ad-booking, ultra-precise user profile targeting based on real data, payment, monitoring, analytics, and market intelligence into a fully automated SaaS solution that runs on cloud computing. Our superior targeting technology enables advertisers to precisely target their advertising and increase online shop revenues using real data from social network users or single sign-on services like Facebook, Connect, and Open Social.
Biomedical Modeling – Saint-Petersburg State University, Russia
Biomedical Modeling brings innovation to the market of medical simulation software. Reconstructive surgery is a very complex imaginative problem of spatial manipulation of transplantation tissue shapes, forms, and placement in 3D space that are currently done in surgeons' heads. Thirty percent of patients are unsatisfied with outcome of their plastic surgery (ASAPS report) which results in a loss of reputation for surgeon and a loss of revenue for clinic. Also 40% of patients decline plastic surgery because they cannot imagine the results and are unsure of the surgeon's capabilities. Our 3D simulation is used in plastic surgery clinics to help surgeons better understand patient expectations, take spatial measurements of patient body, and aid in surgery planning. Our solution is in-house developed software plus service for patient body 3D reconstruction, procedure planning and simulation, and 3D in stereo model visualization.
Bio-oil – Tsinghua University, China
Bio-oil aims to promote an alternative energy source while reducing pressure on the environment. Our company produces biodiesel using various kinds of waste oil as raw materials. Not only do we solve problems arising from the disposal of waste oil, but we also provide a clean and sustainable form of energy—thus bringing valuable benefits to society. The production technology creates biodiesel and 1-2-propanediol (PDO) through a bio-enzymatic reaction. The production process is pollution free, cost saving versus traditional methods, and has a high raw material-to-end product conversion rate. Almost all animal and plant oils can be used, even waste oil. Our innovative technology also produces the chemical product PDO as a by-product that increases the profit per ton of waste oil substantially.
BrightSense – University of California, Berkeley, USA
BrightSense offers personalized and pain-free tooth whitening trays to address the two biggest challenges for tooth whitening. Today tooth whitening is a painful experience for consumers and takes too much chair time for dentists to make money. We use a patent-pending platform technology to calculate the exact whitening dosages needed for each tooth and deliver them through an easy-to-use, at home disposable device—resulting in a pain-free experience for patients. Our solution requires only 10 minutes of the dentists' time, saving valuable chair time while still providing a highly competitive profit margin. BrightSense trays are positioned as a personalized cosmetic therapeutic product priced just below current in office treatments but above generic over-the-counter products. We will use proven channels to efficiently access a large number of dentists including academic research, clinical, continuing education, dental researchers, and technology leaders.
BrizzTV – Indian Institute of Management Bangalore, India
BrizzTV is a next-generation digital media technology company that connects Internet users with their Internet novice friends and family by enabling personal content sharing of photographs, documents, videos, etc over the television in the most non-intrusive way—so that even your 80-year-old grandmother can use it. Our patent-pending digital media platform lets you share your photographs, check your e-mail and Facebook updates by the simple press of a remote button just as you would do to watch a channel of your preference. We work at the cross section of Internet, direct-to-home (DTH), and set-top-box technologies to deliver the unique personalized content delivery and consumption experience. Our current focus industries are media and education. Internet illiteracy, inaccessibility, or its clumsiness can no longer holdback people from consuming content available over the Web!
CamGaN Ltd. – University of Cambridge, United Kingdom
CamGaN can make white LEDs (light-emitting diodes) 2-5 times cheaper than current technologies. Lighting consumes 20% of the world's electricity. White LEDs are much more energy efficient than incandescent light bulbs (~10 times) and fluorescent lights (~3 times). However, currently white LEDs are still far too expensive. White LEDs are currently based on Gallium Nitride (GaN) grown on 2"-4" sapphire or silicon carbide (SiC) wafers to obtain good GaN quality for high lighting efficiency. CamGaN, using its unique growth recipes, successfully achieved growth of GaN structures on 6" silicon wafers while maintaining high lighting efficiency. By adopting CamGaN's recipes, the cost of LEDs can be reduced by up to five times. The recipes only require very limited modification to the current production lines in the industry, and thus can be efficiently adopted by existing manufacturers.
EasyCheck – Ruppin Academic Center, Israel
EasyCheck develops the "MyBK" (My Breast Keeper) device, which will enable periodic, routine, low-cost breast cancer exams for women. Today breast cancer is the second leading cause of death in women. When breast cancer is detected at an early, localized stage, the five-year survival rate is 98%. However, early-stage breast cancer frequently has no symptoms. Most breast cancer cases are diagnosed in the second and third stages, but by then the cancer is often advanced and less likely to respond to treatment. The MyBK easily and comfortably stimulates and extracts a small amount of nipple aspirate fluid (NAF) from the mammary ducts, where a majority of breast cancers originate. The extracted sample fixates on a disposable element, located in the device. Within five minutes a reaction occurs, detecting specific biomarkers related to breast cancer. This life saving, cutting-edge test can detect malignancy before tumor formation, and provide ultimate diagnostics in a stage that doctors can cure.
ENDOCARBON-spine – Penza State University, Russia
The ENDOCARBON-spine company designs and manufactures prosthetic intervertebral disks for the spinal surgery based on carbon materials. The use of the prostheses made by our company significantly reduces the duration of the surgical procedure, the period of postoperative recovery of the patient, and ensures the long–term performance of the prostheses. Our device is unique due to application of the monolithic carbon material for its production. The advantages of the carbon material in comparison with the materials currently in use are high biocompatibility, high wear resistance, durable performance (if compared with ceramic, polyethylene, and metal), and improved integration to a bone structure due to the carbon film on the porous coating. The carbon material has proven its applicability in cardiac surgery long ago. The patients with prosthetic heart valves made of this material live more than 40 years without necessity to replace the implant due to changes of its properties.
Fumajet Motofog – University Veiga de Almeida, Brazil
MOTOFOG is an innovative piece of equipment for fighting urban vectors (eg. malaria and dengue), as well as agricultural pests. The system was designed to be installed on a 125cc motorcycle (most common model around the world), allowing control and prevention in difficult access areas where fogger cars have no penetration, such as in slums, hills, alleys, vacant lots, junkyards, rims, channels, etc.
In agriculture, MOTOFOG has major advantages in insecticide application since it can drive between plantations with narrow lanes, alleys, and on uneven ground—locations currently accessible only by foot or plane. With 250 million new cases of malaria each year, countries are constantly searching for new techniques to eliminate pests, their existing mutations, and future problems. MOTOFOG is an innovative technology to help improve healthcare worldwide against deadly diseases.
GIVE.sg – National University of Singapore, Singapore
www.GIVE.sg was started to inspire a social movement for good by applying crowdsourcing to create awareness for a cause and crowdfunding to raise the funds needed to fix the problem, giving its online community a better way to contribute back to society and create sustainable social impacts. Every day, 20,000+ people follow this movement on Facebook and Twitter. Among the key offerings from the www.GIVE.sg website are: personal fundraising (evangelists can start their own unique campaigns to get friends and family to fund their favorite social projects), donating online (a donor benefits from greater convenience while helping charities save more money by giving online), browsing charity information (public supporters learn more about the charity organization before making an informed giving), and participating in charity events (public joins marathons, buys concert tickets, and more, to support charity causes).
Gled – Universidad Técnica Federico Santa María, Chile
Gled has become a leading provider of augmented reality (AR) customized applications. IVEO Desktop and IVEO Web, the software products developed by the team, are capable of adding virtual elements to the real world in many novel and surprising ways, by putting printed patterns such as codes, pictures, brands, or even the hands or an entire person in front of a webcam. The company implements commercialization strategies for different customer profiles, such as marketing and advertisement agencies, software developers, brand agencies, or single users creating their own AR applications. Gled was successfully introduced in the regional online advertising industry as a reliable supplier to develop augmented reality applications and has several large corporate clients currently in its portfolio.
Hapyrus – The University of Tokyo, Japan
Hapyrus.com will provide the best practice of processing your BIG data by only web UI. This service is using Hadoop technology and wrapping it, so users can handle Hadoop very easily and don't need the special skills for Hadoop. Hadoop is the disruptive technology to process BIG data. But as the technology is different from the current programming paradigm, it is difficult for engineers to handle it well. We aim to target users who are web service providers using a cloud computing environment such as Amazon EC2/S3 and have BIG data to process, but do not have the core technical skills to process, like Hadoop. Using Hapyrus, users can register their BIG data into the service uploading to S3, etc, describe scripts to process their data by Hadoop and its middleware (Hive, Pig, etc), refer the script library, which is described other high-skilled users (including us), run their script on the Hadoop cluster provided by the service, and get the processed data on the Web.
Hi-light – Tsinghua University, China
Hi-light uses its LEC (light-emitting electrochemical cells) light technologies to revolutionize the lighting industry and to create a new generation of illumination products. In order to tackle the ever-growing climate change problem, several countries are introducing plans to phase out inefficient and wasteful light bulbs. This gives energy-saving light bulbs a huge opportunity to replace the soon–to-be-illegal light bulbs. LEC light devices are highly efficient and relatively cheap to produce. The CAGR for the lighting market has been above 10% in recent years. This trend is set to grow. The advantages of our technology are that they have a lighting advantage, are energy efficient, have low production costs, and are environmentally friendly. They are a revolutionary lifestyle product—close to natural light and flexible.
iletken Technologies – Rensselaer Polytechnic Institute, NY / Koc University, Turkey
iletken builds recommendation technology for online businesses. We help online retailers increase their sales by delivering a personalized shopping experience and relevant product recommendations. Buyers online are overwhelmed by the large number of purchase decisions they make. Retailers need to convert their visitors to sales by engaging them with relevant products and personalized experiences. Facebook is becoming a centralized hub of personal data and is making this data semantically available to third parties including online retailers. Our e-commerce product is a plug-and-play SaaS solution that enables online retailers deliver relevant and personalized product recommendations on their site and via e-mail. Our service automatically learns from on-site behavior such as product views, search, keywords and purchases as well as personal data and friends on Facebook to provide powerful recommendations instantly.
iPi MoCap – Moscow Institute of Physics and Technology, Russia
The iPi Desktop Motion Capture software product tracks human motions from multi-camera video and generates 3D skeleton animation. It is used in computer game development, filmmaking, advertisement, medicine, sports, and R&D. iPi Motion Capture technology is better than the competition because it is much more convenient as it does not require special costumes with markers or sensors. It is portable and can be set up in regular office space within 30 minutes. It is affordable (with a cost of $1K instead of $10-100K) as it runs on a PC with USB webcams. It gives 100 times higher productivity than "manual" key framing tools. The target markets are professional animators, who use the existing expensive mocap systems, and small studios and hobbyists who cannot afford the existing systems and use time-consuming "manual" key framing technology.
iSensor – Indian Institute of Management Bangalore, India
iSensor Diagnostics intends to leverage its expertise in biosensors/immunosensors and micro fluidics to design and develop a novel lab-on-a-chip device for the measurement of cardiac, cancer, and infectious disease markers iSensLab is a point-of-care, self-calibrating, high performance, inexpensive (< $1.00) plastic biochip cartridge for rapid (in minutes) quantitative measurement of low-concentration disease markers in whole blood/serum samples, which will result in a rapid screening and diagnosis of cardiac, cancer, and infectious disease markers. Our proposed method utilizes a plastic biochip-based electrochemical biosensor. The plastic biochip electrochemical immunosensor utilizes enzyme-based detection of disease markers in a sandwich immunoassay in a blood sample using chrono/amperometry technique and on-board reagent calibration with built-in quality control. We have demonstrated the proof-of-concept of iSensLab using cardiac troponin as our target marker with a detection limit of 0.1 ng/mL. The developed technology platform can now be easily adapted for low-cost and rapid measurement of cancer markers and infectious diseases in semi-urban and rural areas of developing countries.
Magoosh – University of California, Berkeley, USA
Magoosh is disrupting the three billion dollar test preparation market with personalized test preparation delivered through videos on any device. Magoosh is different in its mode of teaching: students learn through short-form videos that deliver content according to each student's strengths and weaknesses. The key benefits to the student are effectiveness (the personalized videos create an experience that is like having a personal tutor on demand), convenience (since the student can learn anywhere, anytime, on any device), and affordability (since Magoosh costs a fraction of the thousand dollars or more than is normally spent on a class). Magoosh product sales have exceeded ten thousand dollars in each month over September and October of 2010. Students from over one hundred and fifty countries have learned with Magoosh products.

µ-WTE – Erasmus Mundus ME3 Master Program, Europe / Lebanon
μ-WTE intends to provide an innovative, economical and affordable microscale waste-to-energy (WTE) technology to supply an environmentally-friendly solution to waste disposal and to enhance the energy independence of a major segment of its initial market: hotels and towers in Dubai. At μ-WTE, we rely on technology transfer to produce packaged, easy-to-install and operate, and in-situ WTE systems to fit the local market demands while cutting their electricity bills and meeting their heating requirements in-house. We envision that this decentralized WTE technology would be adopted by many high-density waste producers in Dubai as a way to reduce waste at the source and lessen the ecological and logistical burdens associated with solid waste disposal. Our technical knowhow, which is based on in-depth research in the field of waste management and technologies together with a strong market demand, are our main advantages to be the prime movers and capture a large market share in Dubai and the region throughout offering a complete solution to our customers.
Onapsis – Universidad de Buenos Aires / Universidad Tecnológica Nacional, Argentina
Onapsis specializes in the development of information security solutions for ERP systems and business-critical applications (BCAs). Onapsis X1 enables companies to perform security audits, vulnerability assessments and penetration tests over their ERP platforms. This innovative and self-managed solution helps customers decrease business fraud risks, enforce compliance requirements and reduce audit costs drastically. Onapsis' first product version is focused on the SAP business platform. ERP systems and BCAs are affected by several security issues. Currently, there are no known solutions in the market that address the native security issues of ERP systems and specific consulting services are extremely expensive. Onapsis X1 is the first commercial solution for technical security assessment of ERP systems. Through this product, companies are provided with a framework that enables them to perform a self-security evaluation of their ERPs, understand the involved risks, and resolve existing weaknesses that could result in espionage, sabotage, and fraud attacks.
OpenBuildings – University of Arts, Bulgaria
OpenBuildings is a community-driven and openly editable encyclopedia of buildings from around the world. This database of historic, contemporary, or conceptual architecture exists on multiple digital platforms; including a web site and mobile applications that enable users to find, learn about, and share nearby buildings of architectural merit. The average person has who wants to learn about architecture online or on the street (and next to a building) has no "go to" resource; meanwhile the construction industry is plagued with a lack of online representation or understanding. There is no informational and professional resource where our built environment is shared, discussed, and enjoyed. Our aim is to collaboratively archive the world's built environment: to inspire architects, educate students, inform tourists, and empower professionals.
OsComp Systems – Pontificia Universidad Católica Madre y Maestra, Dominican Republic
OsComp Systems (OCS) has invented a breakthrough, patent-pending technology that reduces operating and capital costs for natural gas compression by over 30%. Compression costs affect the entire natural gas supply chain from wellheads all the way to the end user. Worldwide, natural gas compressors consume more than USD200 billion in fuel/electricity and generate more than 340 million tons of CO2 each year. Sales of natural gas compressors is a USD7.2 billion per year market (2010) and is expected to grow more than 8.7% per year for the next decade. OCS makes marginal gas wells profitable once again, and increases the margins from already profitable ones. Compression is needed at the wellhead to enhance production, among other uses. OCS has confirmed that packagers and leasing fleet operators are willing to adopt our technology after successful field trials and long-term durability projections.
ROCA K.K. – Doshisha University / Kyoto University, Japan
ROCA K.K. produces nano-array filters for water desalination, based on a state-of-the-art nanotechnology. Of the water on our planet, only 2.5% is fresh water and of that fresh water, only 0.0075% is usable. Furthermore, since the demand of water has increased three times over the last 50 years, it is estimated that in 2025 the world population will reach 7.5 billion and 50% of this population is going to have a serious water crisis. Our filters are completely different from existing reverse osmosis (RO) filters, as ours are made of inorganic ceramics with periodic holes of uniform diameter below 10 nm. Ours have longer lifetime, lower costs of energy and maintenance, and need less pressure. Consequently, our filters consume running costs much lower than other existing filters, and enable us to make drinkable water from seawater more easily and cheaply. ROCA K.K. is going to produce unique filters of the best quality to solve a serious water crisis to occur in the near future.

SiteChat – Cairo University, Egypt
SiteChat™ is a proprietary, educational online chat system that connects students searching for similar information or knowledge. The technology leverages the synergy created by collaborative thinking to augment search results while simultaneously creating archived knowledge repositories for future students to tap. SiteChat benefits the educational organizations by providing actionable information and analytics through a student-driven ranking system that provides a window into student interests. The system was tested by more than 1,000 students and proved to be beneficial for more than 80% of the users. It increases the student's productivity dramatically in finding the information online, and improves the collaborative between students over the Internet. SiteChat will be available online by the end of this year, where millions of students can benefit from it for free. SiteChat serves students both in high schools and collegiate institutions. It also helps users of e-learning systems to work in a better virtual environment achieving a real collective intelligence.
Solar Skylight – McMaster University, Canada / King Abdul-Aziz University, Saudi Arabia
At Solar Skylight, we believe in harnessing the energy of the sun in the best possible way. We have found our niche in hybrid solar technology. Our mission is to remain on the leading edge of hybrid solar technologies by consistently researching and developing intellectual property for hybrid solar technologies. 'Siraj' is our first product. It is a unique window structure designed to use the energy of the sun to optimize the interior illumination of buildings, while generating electric power, and enhancing its aesthetic appearance. 'Siraj' has the benefit of daily light modulation to cause consistent interior lighting over the course of the day from dawn through dusk, and accounts for seasonal light modulation to maintain interior comfort, while generating solar electricity. All this can be achieved at 25% reduction in production costs, 40 % increase in solar power efficiency, and an industrial standard durability of 20 years. With our patented technology, our goal is to co-develop products based on our technology with a skylight market leader, and make it feasible for mass manufacturing.
Unima – Tecnológico de Monterrey, Mexico
Unima develops biotechnology products for the control of food-borne diseases and pathogenic bacteria that affect both human and animal health and also the productivity of the food manufacturing industry. As opposed to traditional chemical technologies like antibiotics or disinfectants used by pharmaceutical and agrochemical companies, Unima develops technologies based in the natural defense system of plants, animals, cells, and bacteria. Our first technology in the market, Custovac, is a wide spectrum vaccine stabilizer used in animal production to protect vaccines from the adverse physicochemical conditions of the water of the farm. Custovac increases vaccination efficiency, helping producers to reduce costs related to the mortality and medication of sick animals therefore increasing profits while consumers benefit from a fresher and safer product.
Winduction – London Business School / University of Oxford, United Kingdom
Winduction will commercialize an evolutionary small wind turbine that offers cost-leading wind energy for residential and commercial applications. The global wind energy market is growing at 20% CAGR. The small turbine market was £169M in 2009 with projections of up to £3B in 2015. The UK Carbon Trust has calculated a UK addressable market of around 1 million homes. Incentives are being introduced across the developed world such as installation grants and feed-in tariffs. Consumer demand for renewable microgeneration is being further stimulated by rising energy costs, environmental concerns, and an increasing desire to be "energy independent." Winduction has developed and patented new technology for wind turbines with a focus on the generator subsystem. Winduction's patented generation system pairs a commercial induction motor with proprietary electronics to optimize generator characteristics to wind speed.
Zland Carbon Technology Corporation - Shanghai Jiao Tong University, China
Zland Carbon Technology Corporation aims to provide value-added technologies and services of molded activated carbon products. The core competitiveness of Zland is the preparation method of molded active carbon and the advanced regeneration technology of exhausted active carbon. Based on these advantages, we will seize the high value-added core business: activated carbon product R&D, design and molding processes. The excess of Chinese activated carbon powder gives Zland a chance to be light, low-cost, high-expansible, and efficient. Currently, the company has completed the leap from laboratory to mass production and has the ability to produce molded carbon with different shapes, compositions, effects, or under special customizations. With advanced research and development capabilities, we have innovated 12 carbon products including car-use decoration AC, refrigerator-use odorants, and commercial presents as well as waste water COD elimination.